Mov'in Europe is an ESN campaign promoting mobility in all of its forms. We believe mobility is a lifestyle that all young people should have the opportunity to embrace as we are living in a global and ever more interconnected world. A world where the mindset of all of us should be truly international. However, we believe there are still barriers preventing young people from going abroad and experiencing international mobility, be it their own fear and lack of information or institutional limitations. Through the project called Mov'in Europe, ESN aims to overcome these barriers as well as let the students and wider audience know about all the mobility possibilities in their communities. 
Several of us who volunteer for ESN UMB have experienced some type of mobility and since it brought positive change into our lives, we believe spreading the information about Erasmus+ programme but also about many other is an important part of our volunteer work. Hence we organize events not only for our Erasmus students but also for local students interested in having an international experience. Sometimes even for both groups at the same time. One of our flagship events for many semesters has been the International village event where each time we gather with our current Erasmus students to share our cultures, food and life experience with the public. It happens at the City hall of Banská Bystrica and sometimes we even manage to connect the event with a higher cause, such as in summer 2016 when the benefical concert of International village raised about 250 Euros as a donation for the House of St. Elizabeth (a shelter for abused women). In summer term 2017, we connected the event with an adoption campaign and a donation for the animal shelter in Zvolen, which was also succesful.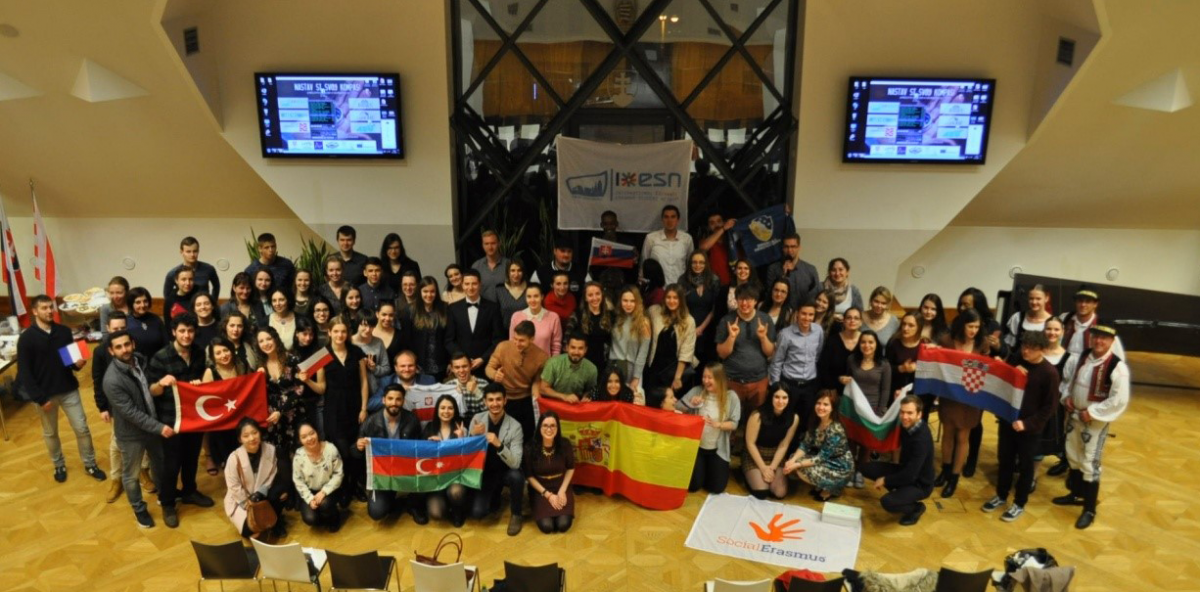 The other events we make are usually movie nights where Erasmus students choose movies from their countries in their native language and then, Erasmus students as well as locals get together to watch it with English subtitles. As an organization, we try to be present at different events where students can gain information, such as job fairs or infomarkets, to provide them not only with the information about ESN but also about Erasmus and other mobility programmes that they can take part in. One of those events is called "Zo školy na zimák" (From school to the stadium), a job fair connected with ice hockey match - something we Slovaks love. There, the local students can watch a match between university hockey teams and get information about student organizations or potential employers.
In 2017, we teamed up for the first time with other student and academic organizations to create something called "Nastav si svoj kompas" (Find your direction) - a series of events and discussions lasting through the entire month of April to let the students and public know about all the possibilities they have if they want to study, intern, volunteer or learn abroad. Discussions with EVS volunteers, past Erasmus+ students or interns and volunteers, as well as series of workshops to boost people´s creativity, employability and skillset for an international experience - that´s what this successful idea was. And we definitely hope this first time wasn´t the last one. Last but not least, we try to cooperate the most with our university´s international relations offices, because it is mainly those who provide mobility information and they tend to have a lot of work, so for them it´s not always easy to provide help to students. What we want the local students to know is that we are here not only for the Erasmus ones, but also for them and if they have doubts about going abroad, they shall not worry. ESN UMB is here for them. Why? Simply because #MobilityIsALifestyle